Whether you're inviting 1 or 100 candidates to your CodeCheck sessions, we provide an in-app tool to send invites via email quickly.
WATCH THE VIDEO FOR A STEP BY STEP GUIDE:
MORE DETAILED INSTRUCTIONS:
There are three ways users can invite candidates:
Using "Invite candidates" button
Creating a Batch Invite
Using a Public Test Link
"Invite candidates": Once you select this option, pick between sending private test links using Codility system or generating links that you can send out yourself.

At this point, you can type in your candidates' first names, last names, email addresses, and phone numbers. It is obligatory to add at least their email addresses in case you are sending private test links using our platform. You don't need to put your candidates' email addresses if you'll be sending the links yourself.
"Send private test links to yourself" option will let you generate links for your candidates to take the test anonymously if needed.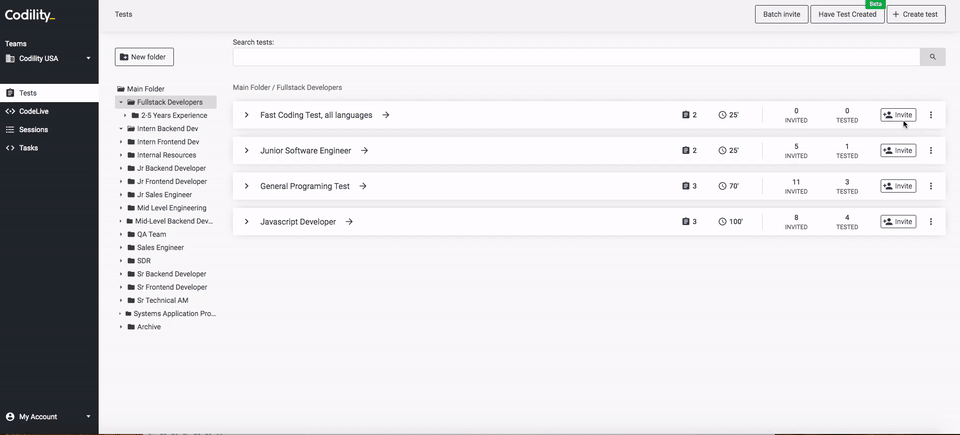 Using batch invites enables you to:
create individual, private test links for up to 500 candidates at once
add candidates to different tests
(optionally) send e-mail invites to all candidates at once
All that is required is creating an Excel spreadsheet while keeping this in mind:
please make sure that column "Test" exists in your file and is not empty
each row with a test name will become one invitation
columns can be in any order
if you want to automatically send invitations to candidates, you need to provide correct e-mail addresses
Once this is done just go ahead and upload the file in a designated place. The invitations will be generated and, upon your approval, sent out.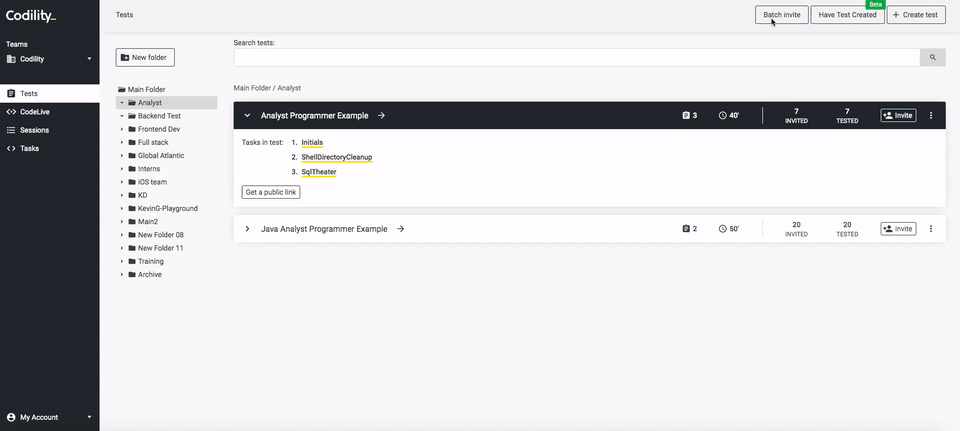 Unlike the above-mentioned test invitations where the link to the test is unique to each candidate and can only be used once, creating a public test link generates a URL that multiple people can use to start your test.
STEP BY STEP INSTRUCTIONS:
Go to your tests dashboard and navigate to the relevant test
Click "Activate" next to public link
Select the time/date when you'd like the link to become active or inactive, or make it active indefinitely instantly
Copy/paste it into the correct position in your workflow
Any candidates who use the link from then on will automatically go into the sessions tab of your test