Public test links are designed to help you open up access to your test without having to use direct individual invitations. Unlike normal test invitations
where the link to the test is unique to each candidate and can only be used once, creating a public test link generates a URL that multiple people can use to start your test.

STEP BY STEP INSTRUCTIONS:
Go to your tests dashboard and navigate to the relevant test
Click "Activate" next to public link
Select the time/date when you'd like the link to become active or inactive, or make it active indefinitely instantly
Copy/paste it into the correct position in your workflow
Any candidates who use the link from then on will automatically go into the sessions tab of your test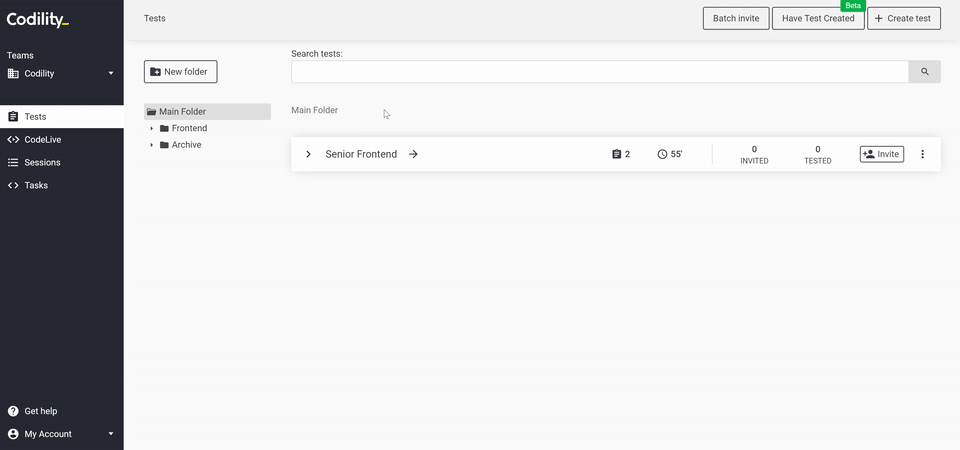 When candidates access your public test link, they will be asked to fill in the following fields:
First Name (required)
Last Name (required)
Email (required)
Personal phone (optional)
BEST USES FOR PUBLIC LINKS:
While a great way to make your test more accessible, Public Links to your test should be used carefully as when used incorrectly, can have adverse effects. If posted without any gatekeeper (ie. directly on your website, or directly onto social media), a Public Link will be open for anyone on your site or social media to use as many times as they want, using different aliases, using up sessions.
Some clients are fine with this, but for better implementation we recommend:
Placing your public link behind a gate (ie. an application form) so that the candidate can only access the link once they've submitted their contact information.
Advising candidates that only their first submission will be reviewed so they don't have an incentive to attempt the link multiple times.
Using a task randomizer in combination with your public link (and letting the candidate know that in advance) so that each new attempt gives the candidate completely different tasks so they don't have an incentive to try better their score.
Limiting access to the link by email address (so that candidates can only have one attempt per email). Contact support@codility.com and we'll set that up for you.
Avoiding the use of prizes or competitive incentives which might bring the wrong sort of traffic to your public link. (We have better ways of doing that with CodeChallenges or CodeEvents).
If you have any additional questions about Public Links or would like to leave your feedback, please reach out to your Customer Success Manager or contact us at support@codility.com.