You now have the ability to specify default settings for all new tests created in CodeCheck!
If you have Administrator privileges, you can navigate to CodeCheck > Settings to access the new global settings. We have grouped them into four categories (Candidate conversion, Candidate experience, Assessment, Review & reports, and Proctoring). They include all of the settings that are normally available to you when creating a test.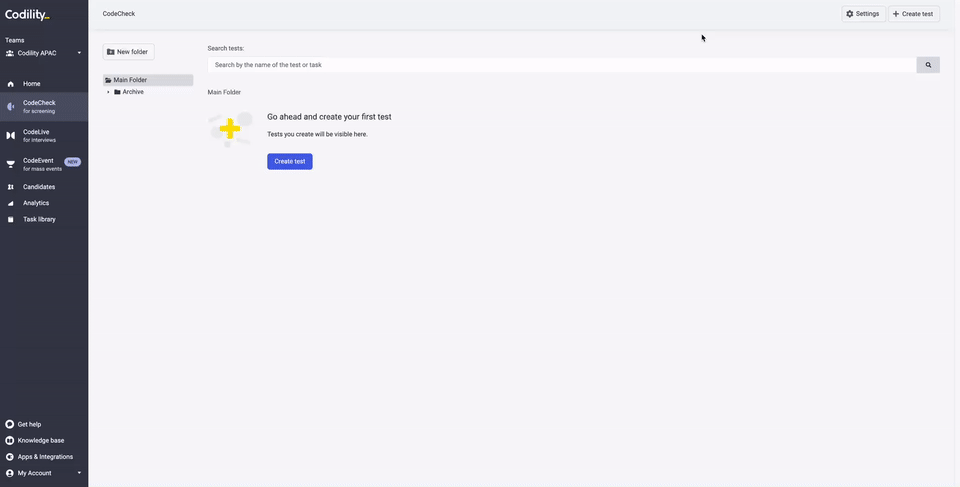 If you require any setting to always be a certain value for all new tests created, you can use the small lock icon next to the setting name. Locking the setting here will make it so that the setting can't be modified on the test level by non-admins. If you leave the lock icon unlocked, then any platform user will be able to change the setting on the test level as needed.
Example
If you wish for all new tests that are created to have a passing score of 80%, you would enter your passing score and toggle the padlock icon. The padlock will then be in a locked state as shown in the secondary screenshot below.


Please remember to always save any changes you make by pressing the blue button "Save changes" in the upper right corner.
Important information to note about global CodeCheck Settings:
The settings will only apply to all newly created tests once the settings are saved. Existing tests are not impacted by the settings changes.
Any old tests that are duplicated will follow the new default settings that are configured.
If you have Teams enabled, the CodeCheck global settings are on a per-team basis. They will need to be configured accordingly per team as needed.
Any questions? Please feel free to reach out directly to your Customer Success Manager or support@codility.com.