5-minute tasks are just that; tasks candidates can complete in under five minutes.
In some situations, long screening tests can turn candidates off - or give the impression of complexity. 5 minute tasks have been designed to help in these situations, so that you can quickly get a reliable signal into a candidate's technical capabilities, without taking too much of their time.
We recommend using 5 minute tasks pairs or triplets, to ensure you get a rounded view of your candidate's technical skills, or in combination with a knowledge-based multiple choice question.
If you're on Codility Premium, you can now create a 15 minute test that covers 2 basic technical skills (using two 5 minute tasks) and one element of technical knowledge (using a multiple choice question).
How they're scored: 5 minute tasks are automatically scored for correctness.
What they're good for: Each 5 minute task encompasses a different type of skill - coding, bug-fixing, or testing - with more coming out in the future!
You'll find 5 minute tasks in the Task Library under this filter: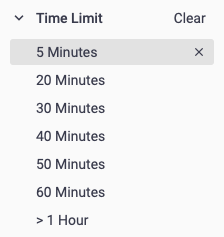 If you'd like help creating a shorter test for your candidates or if you have feedback or suggestions for 5 minute tasks - please contact us at support@codility.com.