For any online testing platform, fraud and cheating are some of the biggest challenges to tackle. Codility keeps the integrity of the assessment process by detecting potential suspicious behaviour, which might be related to fraud or impersonation and cheating on the assessment.
We've been developing Codility's anti-cheating approach for 10+ years and have sent over 12 million assessments through our platform. We use our learnings to improve our cheating detection and protection to ensure you can recruit with integrity.
We have solid measures in place that tackle possible cheating or impersonation:
Photo ID Verification: we are validating if the candidate is who they say they are. When activated, the candidate will have to scan a photo ID document and take a selfie. Using facial recognition and AI, our solution will validate if the candidate starting the assessment can identify themselves using a legit ID document.
Network IP Detection

: we are checking if the candidate is going through the assessment from the same device or location, and isn't sending out the assessment to someone else to complete it for them.

Similarity/Plagiarism Detection: we are checking if the solution submitted by the candidate is written by themselves, and hasn't been copied from someone else or from the internet. We use Similarity Check

to cross-check every new solution against our database of submitted solutions and detected leaks. We flag similar solutions for our tech team to review and if we notice anything suspicious, we flag it for your review.

Leaked Tasks Alert: we are constantly screening the internet for any leakage of our tasks. We've formed great relationships with the sites where our tasks are commonly posted, so if a task is leaked, we can easily and quickly take it down. If we can't contain the leak, we'll retire the task and replace it with a new one, keeping you informed throughout the process.

We also

screen the internet for solutions to our tasks

. We'll try to remove solutions where possible, but if the solution isn't correct, we usually leave it up.
Photo ID Verification is a premium option and is available as a stand alone package, while Network IP Detection and Plagiarism Detection are available to all customers.
The results of these checks become available in the candidate report after the candidate submits the assessment.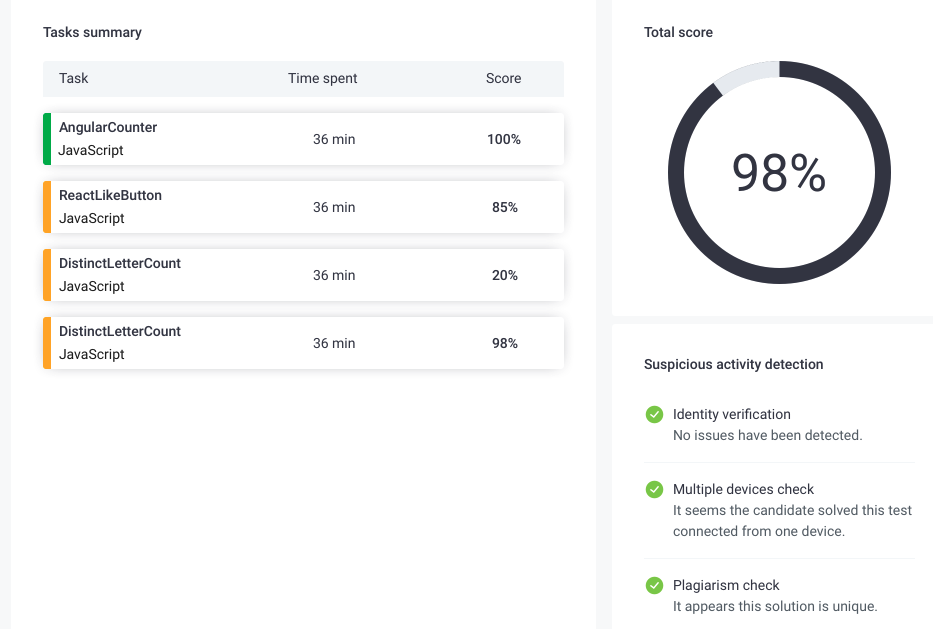 It's important to note that when one of these checks returns a flag, it is not a guarantee that the candidate has cheated (e.g. your candidate had connection issues, so they had to switch from their home network to mobile network, which would be flagged in IP detection). When multiple checks return a flag, it is more likely that the candidate has been trying to cheat on the test. In case of any doubts, we always recommend reaching out to the candidate directly to discuss their situation.
If you have any additional questions about our fraud detection, need to report a leak, or would like to leave your feedback, please reach out to your Customer Success Manager or contact us at support@codility.com.