If you use Lever's applicant tracking system in your company, then using our native customization will help you run faster workflows between the two systems.
In a nutshell, the integration allows recruiters in Lever to move candidates ready for Codility technical screening directly into a "Code Test" stage, trigger a test to be sent to that candidate from Codility, and once the candidate finishes their test, their score and a link to their report will be linked back into Lever.
This allows recruiters to manage the screening workflow faster without having to switch accounts, and ensures all members of the hiring team for a role in Lever are able to see current progress and review Codility results as needed.

SETTING UP THE IMPLEMENTATION:
If you're a current Lever client, contact your Lever account manager or Codility Customer Success Manager, or email their support team at support@lever.co to get the integration configured for your account. In order to enable the integration, they'll need to know:
Codility Access Token
The name of the stage in your Lever account which you'd like to trigger a Codility test.
What the default % pass threshold is
What the default % failing threshold is
How you'd like a candidate's profile or stage to change if their score meets or exceeds the pass percentage threshold
Optional: the default Codility test name
How to generate Codility Access Token
To get Codility Access Token for Lever, go to your the Integrations page (My Account -> Integrations) put in Lever in "Create an integration" and click Create.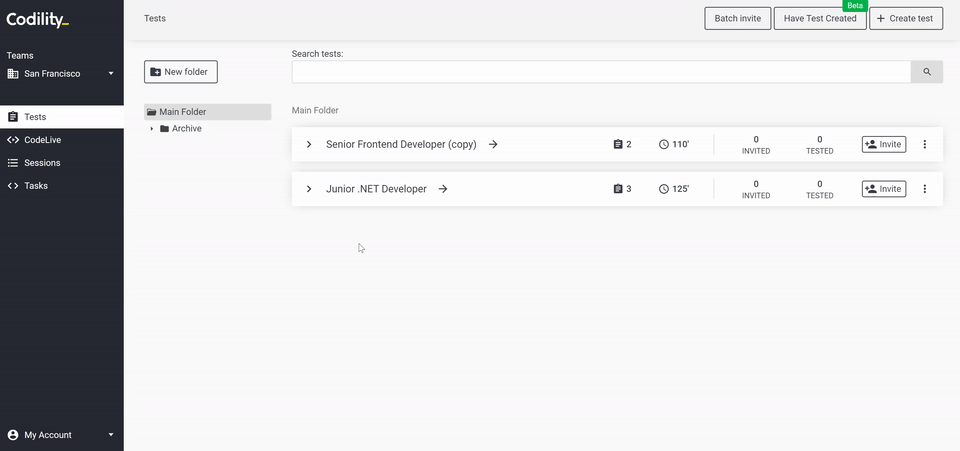 Please note that this integration is available on Core plan or higher. To learn more about the integration or how to get it enabled, please contact us or your Lever account manager.