When it comes to internal hiring for technical roles, the engineering team has historically been great at identifying internal talent to promote and grow.
However, there has always been a gap when it comes to employees who do not currently reside within the engineering system, despite their ability, interest, or skill. Today, we hope to start changing this with our latest skill added to the Codility evaluation suite: Developer Thinking.
Assessing Developer Thinking
We have found a correlation between people who can correctly learn how to solve very easy programming problems and those who have the predispositions to become a good programmer. This comes down to what we call Developer Thinking; the person's ability to follow simple instructions, understand patterns, and then use this to write very basic code.
People who display skills in Developer Thinking have the potential to become programmers and are great candidates for internal mobility and training programs aimed to upskill existing employees and offer them new opportunities internally.
How to find Developer Thinking tasks in Codility Library
We've created a new category within our filters to let you find Developer Thinking tasks easily: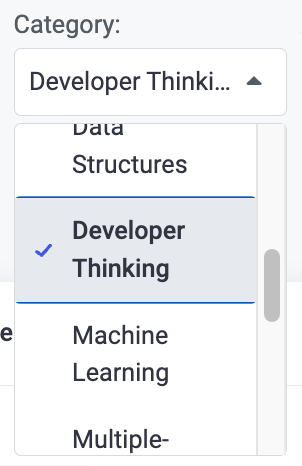 We've got plans to continue expanding Developer Thinking tasks, but if you have any feedback regarding the already existing tasks or ideas for possible future tasks, then please don't hesitate and reach out to us at support@codility.com.