Analytics is the place to go when you want to access necessary reporting and information (in the form of pre-built dashboards), so you have visibility and get better insight into your tech hiring process, accessible in near-real-time.
Running data-informed hiring operations has never been easier!

We offer standard and premium versions of Analytics.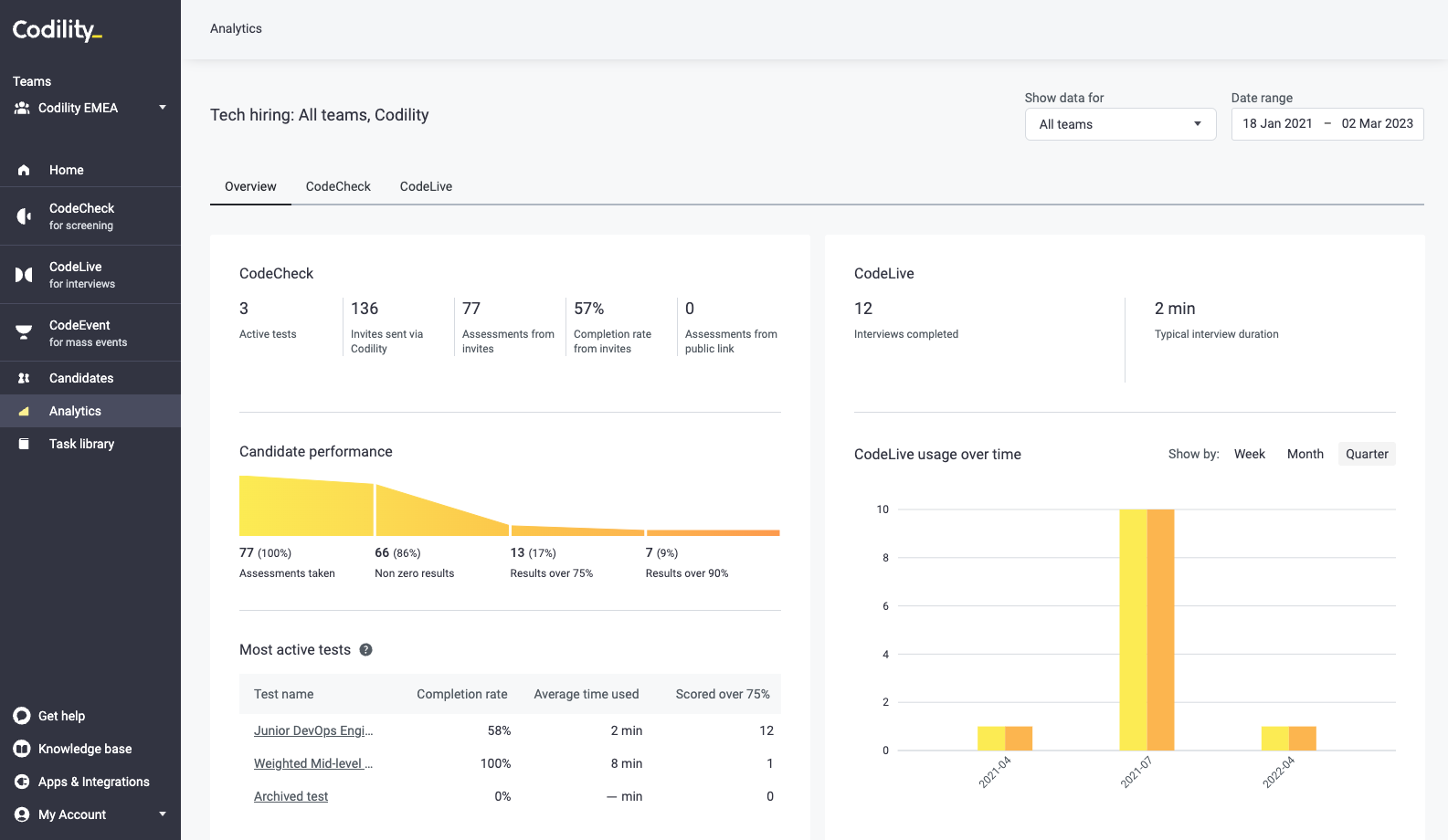 What are the benefits of the Analytics?
Easy access to your data: instead of generating standard reports or requesting custom reports, you can access a wide range of data at any time.
New insights: much of the information in our Analytics is new information that can't be accessed otherwise - like fairness rating.
Designed for decision making: each graph in the Analytics has been designed with the end-user in mind, putting the key info they need up top, and combining data to provide insights into how you can improve your hiring funnels and where there might be bottlenecks.
Ready for reporting: information is beautifully visualized within graphs on the dashboards which make the data easy to understand and presentation-ready for use in monthly reporting to higher-ups.
Standard Analytics
With Standard Analytics you can access:
Overview Dashboard:
Understand how your hiring funnel is performing be seeing conversions along your tech hiring funnel, your usage over time, the most popular languages your candidates are using to solve their CodeCheck evaluations,
Compare performance quarter to quarter:
Edit the data range so that you can track progress over time and see how your strategy is impacting performance.
Premium Analytics
Premium Analytics is a richer version which gives more insights to engineering and talent acquisition leaders. It brings transparency to diversity metrics, tracks candidate experience, and provides performance benchmarks to compare your candidates against.
With Premium Analytics you can access:
CodeCheck and CodeLive Dashboards:
Feedback about your candidate experience in CodeCheck; each test has a fairness rating (as rated by candidates) with a comparison to the global benchmark, and in CodeLive; feedback from candidates on the interview experience.

Benchmark your candidates to the wider market

via new score distribution charts comparing your candidate feedback to the industry benchmark.
Premium Analytics on Test Mission Control:
Test-level performance which benchmarks your candidates' performance on each task compared to the market, test fairness rating, and overall performance.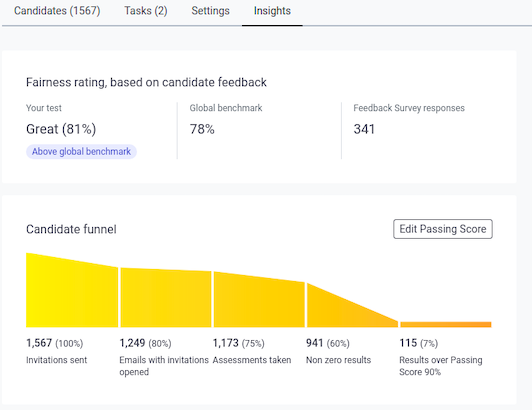 Compare Teams and Share Dashboards with your team:
Designed for reporting, Premium Analytics also allows you to compare results between teams, and comes with

monthly report summaries

emailed directly to the inboxes of your Platform Users.
If you wish to enable the Analytics on your account, upgrade from Standard to Premium Analytics or have any additional questions about the feature, please reach out to your Customer Success Manager or contact us at support@codility.com.