In every engineering team's office around the world, you'll find whiteboards. Covered in scribbled diagrams, wire-frames, and database tables, whiteboards and engineers go hand in hand. It's no wonder that for years whiteboards have been the status quo when it comes to running technical onsite interviews.
Canvas is the latest feature added to our remote interviewing product CodeLive. Using the Canvas, both interviewer and candidate can quickly draw diagrams and shapes to translate technical questions on a high level.
In Canvas interviewers and candidates can:
Draw free form objects with a pencil, pen, and other stroke types in any color
Add text boxes, resize text, and format with color
Draw and use lines to connect objects together
Create circles, rectangles, and other shapes
Add post-its with additional notes
Upload photos and screenshots to draw on top of
Upload PDFs and PowerPoint slides for more complex systems
Resize and move objects around
Undo, clear, and pan around the Canvas

Use arrows, shapes, system icons (Azure, AWS, Cisco etc), wireframe templates and easily connect them together to create quick and clear diagrams.

Use copy/paste or drag to bring external images into your canvas easily and quickly as needed
After enabling CodeLive Canvas, you will be able to use it in every CodeLive interview by choosing the Canvas tab on the right-hand side: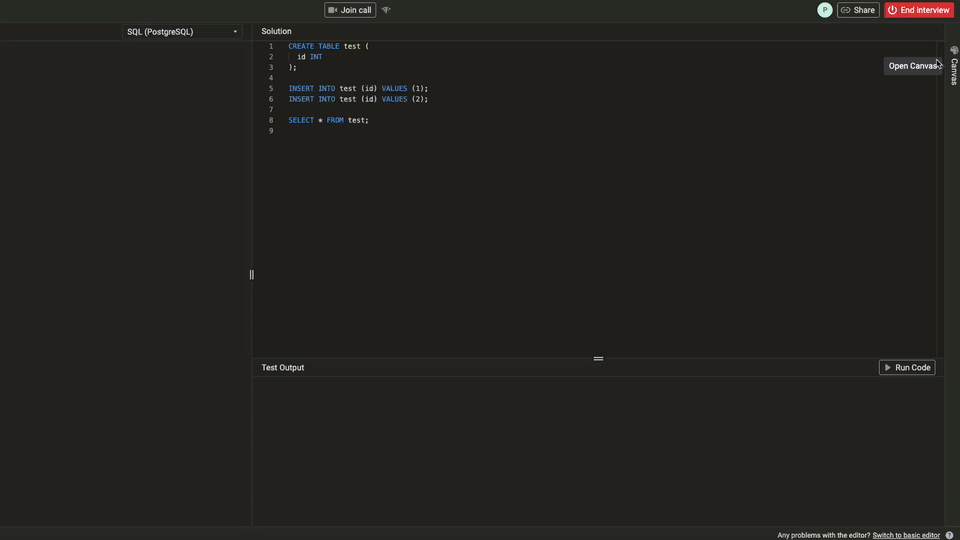 What can I draw in CodeLive Canvas?
Currently, CodeLive Canvas gives you the possibility to upload your own images, PDF, and PPT files and draw basic shapes. You can also add a postit. If you can't find the desired shape in default options, then you can always pick either pen or marker and draw it yourself. You can add templates and tables and use arrows, shapes, system icons (Azure, AWS, Cisco, etc) to easily connect them together to create quick and clear diagrams.
Can I customize my drawings?
When looking at customization, you can pick stroke thickness and color. You can move already present objects by either grabbing the object you want or selecting first if you want to grab more than 1 object.
If you've made a mistake, then you can either undo your last action or click the item and delete it.
Can I export the Canvas Board?
Yes, you can do that before closing your CodeLive Interview. To do that, you'll need to sign up for a Miro account first and be logged in before you start the interview. Once it's done, you'll be able to click on the Miro icon in the upper-left side of the Canvas window to go to the board in Miro and then export the board to either JPG or PDF.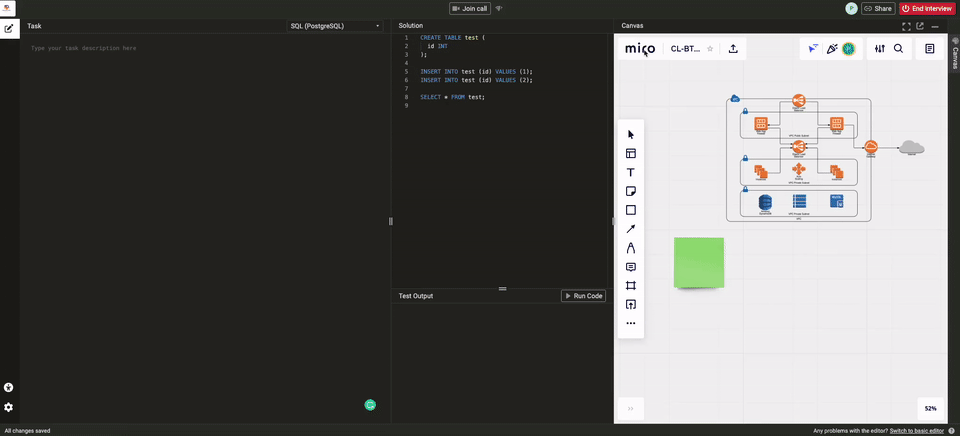 I want to use CodeLive Canvas in my interviews. How can I go about it?
If you don't have access to Canvas, please reach out to your Customer Success Manager or support@codility.com - we will be happy to help!
If you have Canvas enabled on your account but it seems inaccessible, there is a chance your IT team needs to allow access for certain domains so you could work with Canvas properly. Codility uses Miro in our Canvas feature, and you can find domains that need to be allowed here.
If you have any additional questions about CodeLive Canvas or would like to leave your feedback, please contact us at support@codility.com.