Tasks are marked as Training when they have been moved into our Training Suite.
We typically retire tasks from our screening suite to our training suite when we think they are no longer suitable for assessments. If the task is very old, we find the task description posted online or if submitted solutions for the task are frequently flagged by our Similarity Check we will review it, and likely move it to the training suite exclusively (and add a new task into our library to replace it).
If you were using the task actively in recruitment, you will still be able to use it. We do recommend against using it in the long term, as the Similarity Check will no longer be run over it, and eventually, it will become available in Codility Developer Training. This doesn't automatically mean candidates will cheat, but we recommend you update your test when you can.
If you're using a task that is subsequently marked as Training we'll let you know via email. We will also provide a list of new, related tasks which you can replace the old one with.
Finally, the retired tasks will be labeled accordingly in the Codility library: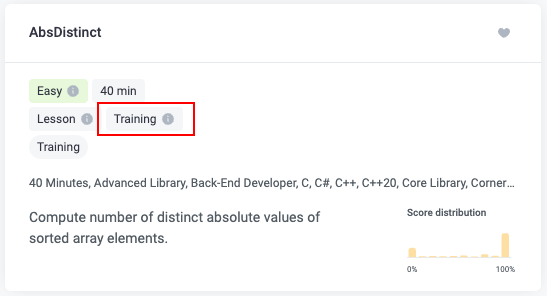 If you have any additional questions about Training Tasks or would like to leave your feedback, please reach out to your Customer Success Manager or contact us at support@codility.com.