Reviewing candidates is often a team effort, so we've built three easy ways for you to share test reports with your colleagues.
1. INTEGRATE CODILITY WITH YOUR APPLICANT TRACKING SYSTEM
The easiest way to automatically collate candidate reports into your information management systems is to integrate your Codility account with your ATS. We provide a number of out-of-the-box integrations or access our API to build your own. You'll find more information here.
2. EMAIL THE REPORT LINK
Once you're on the candidate's report, click the "Share" icon on the top right of the report.
Once clicked, you have the option of either sharing the test report link via email or copying the link directly. This link gives access to this candidate's dynamic test report for 7 days.
This version of the report is the best option if you're sending it to a hiring manager or technical reviewer as it provides full playback functionalities. Please note that such a report doesn't show candidate's personal data.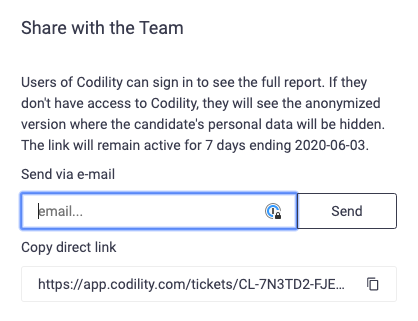 3. DOWNLOAD THE REPORT AS A PDF
A PDF of the candidate's test report can be generated by clicking PDF icon on the upper right corner, which looks like this:

Once the user clicks the icon the PDF will be downloaded onto your device. Please note, this PDF is not as dynamic as the live test report, so it does not allow code playback.
4. ADD REPORT RECIPIENTS
You can add your colleagues as report recipients for a particular test so they would receive notifications when candidates complete their tests. It can be done in the test settings.

The list of report recipients can also be edited when you are inviting candidates in Codility:

If you have any additional questions about Sharing a Candidate Report with your team or would like to leave your feedback, please reach out to your Customer Success Manager or contact us at support@codility.com.