Codility for employees allows you to evaluate your team and engage them in learning new technical skills and languages.
Featuring nearly 200 tasks, our Training Library is designed to be used for internal developer training initiatives, of all skill subtypes and difficulty levels.

OUR CLIENTS USE CODILITY TO:
Run Full-day/half-day competitions to stir recreational competitiveness amongst devs and help them let off some steam. These are great for getting team members working together - especially if the event is less competitive and more teamwork-oriented (ie. coding in groups).
Run boot-camps and training workshops to accelerate learning amongst your dev team, carry out technical education across departments, and for continuous improvements in an engineering organization's problem-solving approach and coding language proficiency.
Assess talent for lateral or vertical job changes and promotions based on their technical skills or progress in learning a specific new skill.
STEP ONE: Decide what skills you'd like to assess, and how you want to run the training session. Will it be a big team affair for engagement, or will it be a structured series of coding sessions done individually.
STEP TWO: Create a test to match those skills, filtering tasks by the tag "Training" or focussing on tasks with the "Training" tag added on them (as seen below). This will show you all the tasks which are designated for training (and won't be used in your recruitment sessions). If you'd like help making a test for training, contact support@codility.com and we'll be happy to provide some suggestions.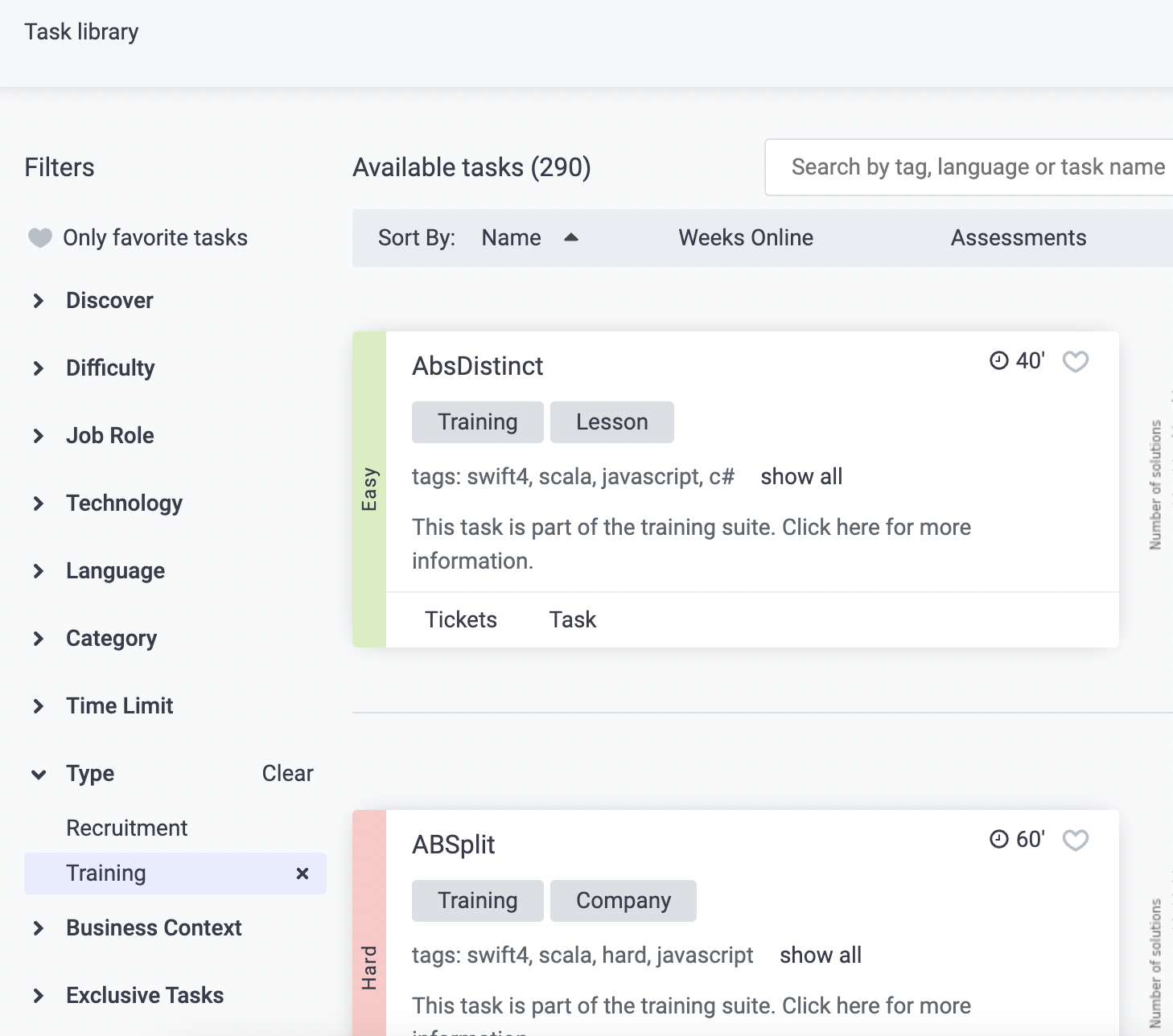 STEP THREE: When selecting a time limit, be conscious of how you're running the training session. If it's an individual session designed to be done in your team members' own time, then set the time limit to recommended. If it's a group or individual competition, set the time limit to the max time you're allocating for the event (ie. 3 hours if it's a half-day hackathon).
STEP FOUR: For training, we recommend keeping candidate feedback turned on in your test. This will give participants a quick overview of their performance after the session, which helps them understand their overall score instantly.
STEP FIVE: Customise the welcome message to add more information for your team (or any additional info about prizes or rules). This welcome message will be shown to the participants just before they begin the session, so it'll give them last minute info.
STEP SIX: How you invite participants depends on the style of the training session. If it's an individual session designed to be done in your team members' own time, send them the invitation to the session via email (you can also send it in bulk) and customize the email message so they understand when and why you'd like them to do the session, and what you'll be using the output for. If it's a group or individual competition, use a public link (which you can send to participants directly, put in the calendar event, or send by Slack) with the start date and end time set aligned to your event.
STEP SEVEN: Results and wrap up. Depending on the style of your training session, you'll want to respond to participants pretty quickly about how they did, and what that means. For every participant, you'll have a full candidate report and will be able to easily review and dig deeper into individual results. If it's a competition, we recommend you take a screenshot of the sessions on the test or put it up on a projector for everyone to see. With competitions, you'll want to give first place to the person/s that scored the highest score first. If you'd like an automatic leaderboard, contact your Customer Success Manager and we can show you the options (available on Unlimited plans only).

OTHER INFORMATION TO NOTE:
There is no Similarity Checker as these sessions are run exclusively by programmers within your company who you trust.
Some of the training tasks may be used on our Programmers' Home.
If you're worried about your employees seeing the scores of their colleagues when they're using Codility for recruitment (and you'd like this to be hidden from view) we recommend creating a training Team in your account, and only adding yourself and whoever else needs to see the training reports to that team.
If you'd like to learn more about how you can use Codility for employees in your team, bounce ideas off us, or talk about adding it to your license, contact your Customer Success Manager or support@codility.com.