Integrating Codility with Workable allows you to seamlessly invite, review and store your candidate test reports all in one interface.
When integrated, you can:
Standardize your Codility tests as part of the assessment stage of your candidates in Workable.
Select which Codility test is required for each role, and enable Workable users to initiate the test invite as candidates enter the assessment stage.
Have candidate test reports automatically attach to a Workable candidate profile and their scores displayed.
Enable faster review and collaboration on specific candidate profiles between interviewers and hiring managers.
Want to find out more about becoming a Workable customer? Contact us and we'll be happy to introduce you to someone who can give you a tour of the Workable platform.
Already a Workable customer? Please contact support@codility.com and we'll help you connect your Workable and Codility accounts together. If you don't have access to integrations, please contact sales@codility.com and we'll help you with the next steps.
Setting up the Integration
Enabling the Integration from Codility:
When you are logged into Codility, navigate to My Account > Settings > Integrations.
Scroll to Workable and click Configure.
On the next page, Enable the integration and select Configure to access the API Key.
Copy the API key.
In your Workable account, click on Settings > Integrations tab.
Scroll down to assessment providers and paste the API key in to the key filed, and click Update Settings.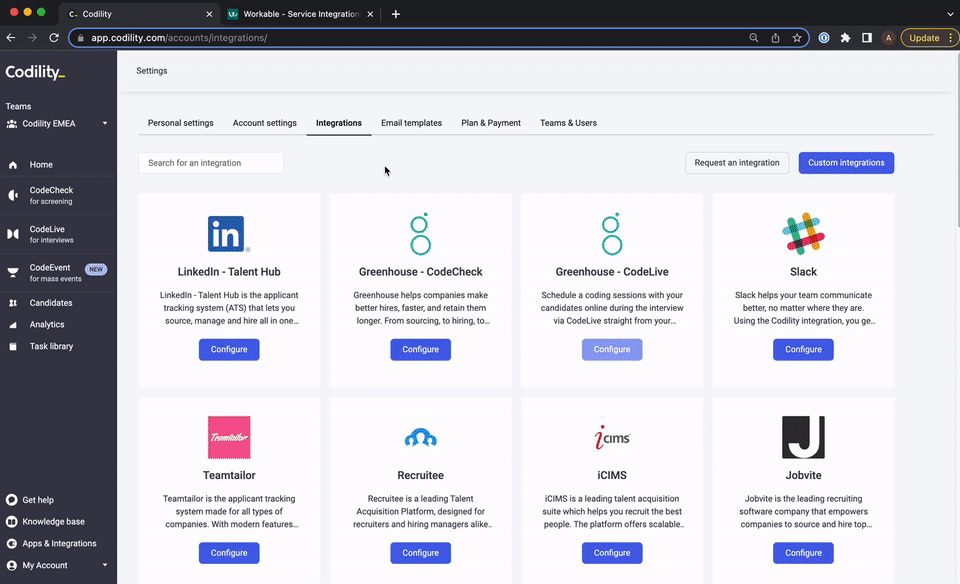 Setting up Codility Test for a job:
Navigate to the specific job, and click the Workflow tab, choose the necessary stage and choose Add an Assessment test.
Codility and select the test to be used for the particular Job.
Click the Save Changes button.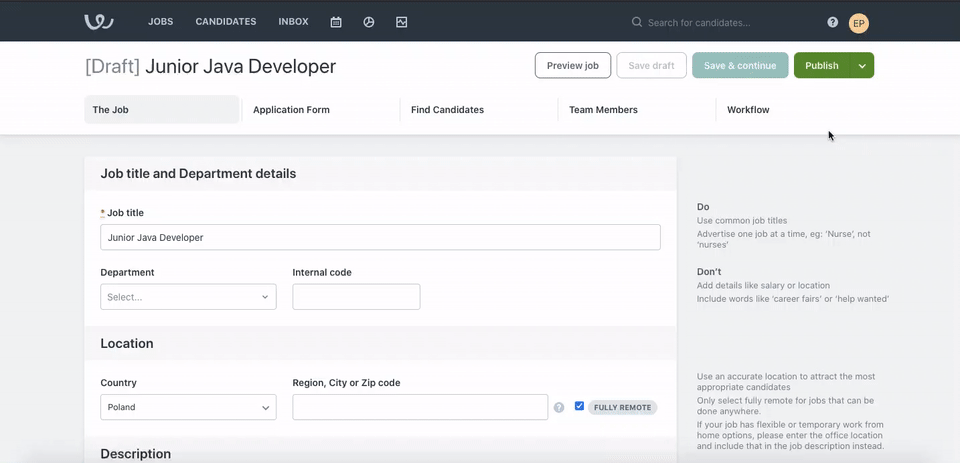 Sending a test to the candidate:
For a job move the candidates to the stage where Codility assessment is setup
Click on the icon, once you click on Confirm the test will be sent out to the candidate

Keep in mind that you will need to configure the test in Codility before being able to access it from Workable. Note that currently it's possible to use only the default invitation template when sending the invitation using Workable.
Reviewing the candidate's results:
Once the candidate completes the test, the report will be automatically updated in the candidate profile on Workable.
You can see the candidate's overall score, alongside a link to their full report.