Integrating Codility with iCIMS allows you to seamlessly invite, review and store your candidate test reports all in one interface.
When integrated, you can:
Standardize your Codility tests as part of the assessment stage of your candidates in iCIMS.
Select which Codility test is required for each role, and enable iCIMS users to initiate the test invite as candidates enter the assessment stage.
Have candidate test reports automatically attach to an iCIMS candidate profile and their scores displayed.
Enable faster review and collaboration on specific candidate profiles between interviewers and hiring managers.
Want to find out more about iCIMS? Request a demo with one of their platform specialists to see if it might be a good option for your team.
Currently an iCIMS customer? Contact us at support@codility.com and we'll activate the integration process for you. You may also contact your iCIMS account manager to initiate the process. If you don't have access to integrations, please contact sales@codility.com and we'll help you with the next steps.
Setting up the Integration
Before enabling the integration, your iCIMS account manager will arrange a quick scoping call to walk you through how the integration will work, make sure it aligns with your workflow, and check that yours is a standard case. Assuming that is clear, your iCIMS account manager will initiate the process with Codility and we'll be there to help you get set up.
To initiate the request, please:
Contact your iCIMS and Codility account managers to initiate discussions (or if you're unsure support@codility.com and we'll point you to the right people).
They'll work together to make sure that the integration is the right solution for you (and check if you need any customizations).
Once approved, Codility will enable the integration for you, and your Customer Success Manager will be able to walk you through the basics.
Using the integration:
Once enabled, you'll see all of your active Codility tests within your iCIMS interface. To start with, you'll want to match your open Job with the relevant Codility test by selecting it in Assessment Type in the Job set up section.
Once matched to the Job, once a candidate moves to the Assessment stage in iCIMS, Codility will trigger an email to the candidate inviting them to take the test.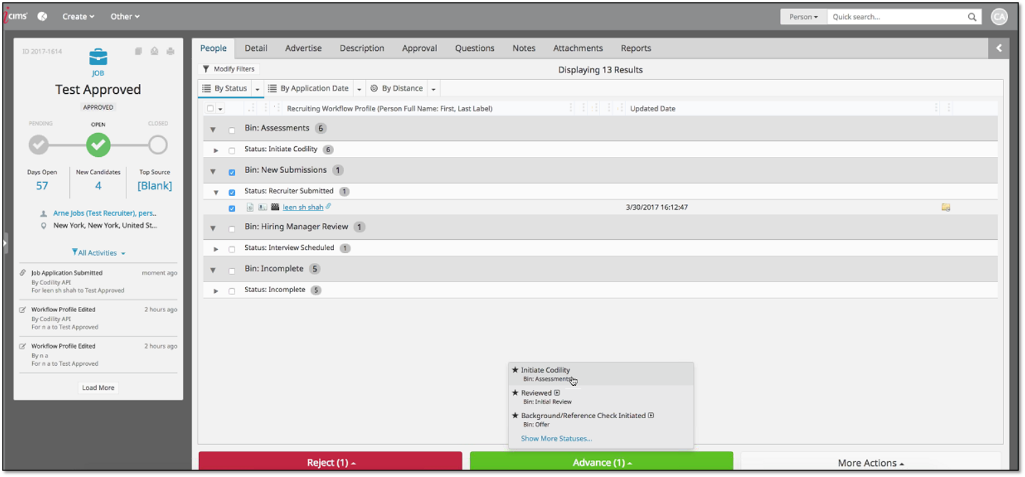 When the candidate has completed their test, their results along with a link to their test report will show in iCIMS ready for you to review and move to the next stage.