Integrating Codility with SmartRecruiters allows you to seamlessly invite, review, and store your candidate test reports all in one interface.
When integrated, you can:
Standardize your Codility tests as part of the assessment stage.
Select which Codility test is required for each role, and enable SmartRecruiters users to initiate the test invite as candidates enter the assessment stage.
Have links to candidate test reports automatically attached to a candidate profile and their scores displayed within SmartRecruiters.
Enable faster review and collaboration on specific candidate profiles between interviewers and hiring managers.
Want to find out more about becoming a SmartRecruiters customer? Request a demo by clicking here.
Setting up the Integration:
To enable the integration, you will need to have an administrator user seat in both SmartRecruiters and Codility. When logged into SmartRecruiters, navigate to Settings > Administration > Apps & Integrations and find Codility in the list.
You will notice there are two options, one for customers on our US data cluster and one for the EU data cluster. Please be sure to select the data cluster location that corresponds to your Codility account. If you're unsure which cluster your organization's Codility account is on, please reach out to Support@codility.com and we can assist.

Once you've identified and selected the correct option, you'll need to select Connect in SmartRecruiters. At this point, you'll be prompted to authorize the permission in SmartRecruiters. You'll also be redirected to Codility where you'll need to be logged in to authorize the connection as shown below.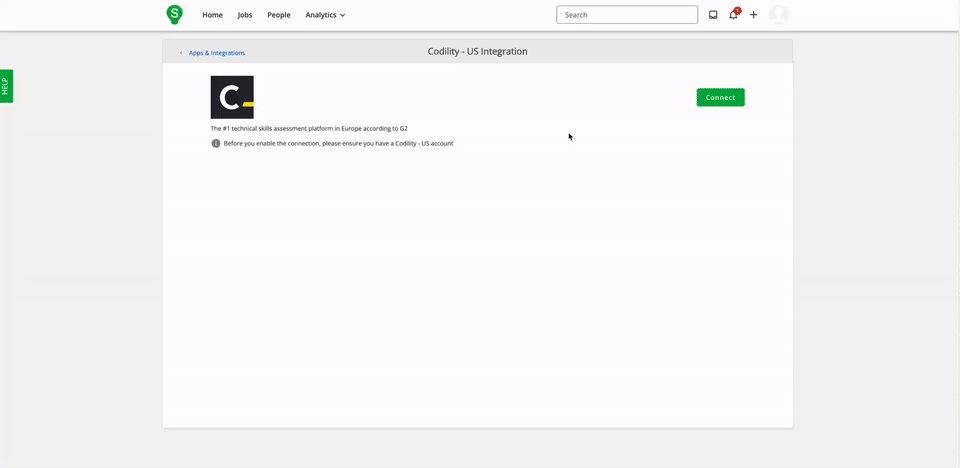 At this point, the integration has been successfully connected to your SmartRecruiters account!
Configure a Custom Email Template:
Additionally, you can define a custom email template for the SmartRecruiters integration in Codility.
1. Log in to Codility
2. Navigate to Apps & Integrations > SmartRecuiters > More Info > Select Default Template.
3. Choose the email template you wish to use and select save.
Note that this selection will apply to all tests that are sent via the SmartRecruiters integration. You can configure new invitation templates under My Account > Email Templates > Add a new template.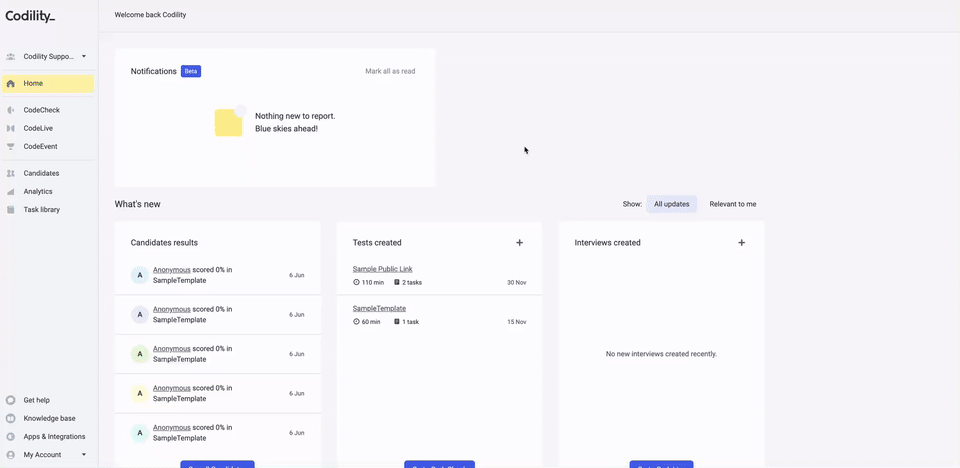 Sending a CodeCheck test to a candidate:
Now that the integration is connected, you can either send a candidate an assessment directly from the candidate's profile page or incorporate assessments into your workflow.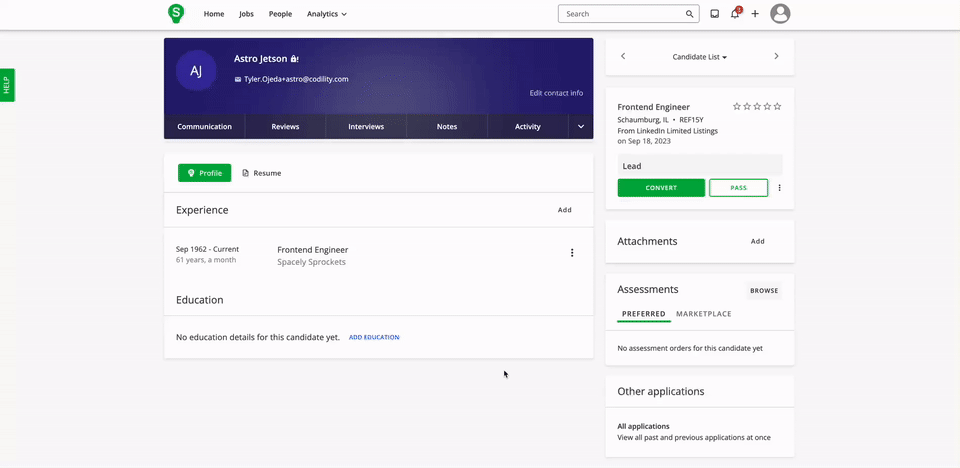 Once the candidate completes their assessment, the score will be returned to SmartRecruiters along with a link to the candidate report.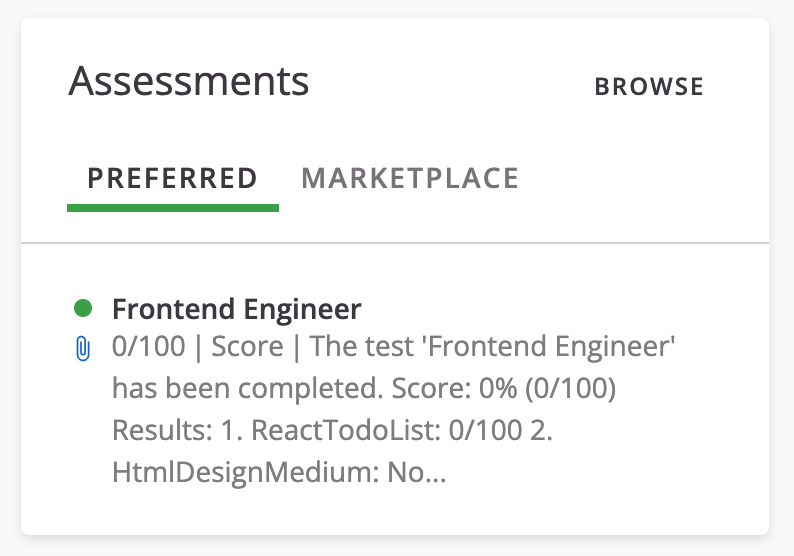 Creating a CodeLive session:
The SmartRecruiter integration will also allow you to generate a CodeLive session for candidates. You will have the option to choose between a Whiteboard or Template mode for CodeLive.
Whiteboard mode: Great for more free-flowing interviews where the interviewer wants to make up questions or has questions (which aren't set up in Codility already) that they want to copy/paste in themselves as the interview progresses.
Template mode: Designed for more structured technical interviews where you have multiple interviewers involved in running interviews and you want to ensure standardization. Template mode uses CodeCheck tests you have previously created that are supported for CodeLive use.
To get started, navigate to the candidate profile in SmartRecruiters and select Browse under Assessments.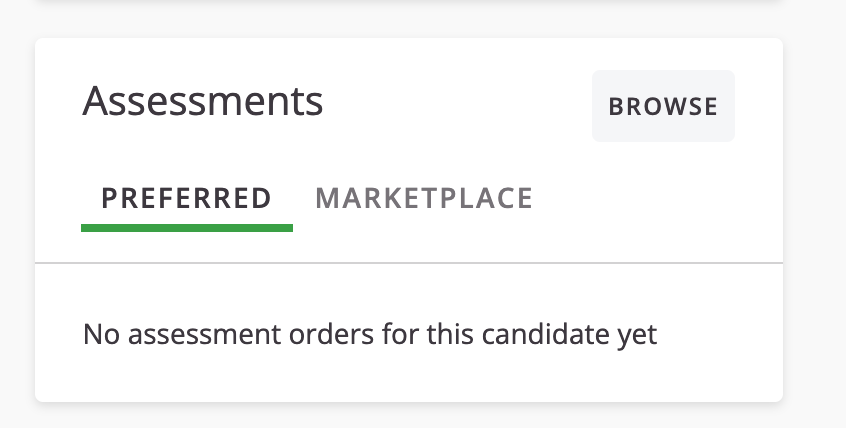 To create a Whiteboard session, select the option that says CodeLive Whiteboard Session. For a Template mode session, select the option that has CodeLive preceding the name of the CodeCheck template in question, as shown below.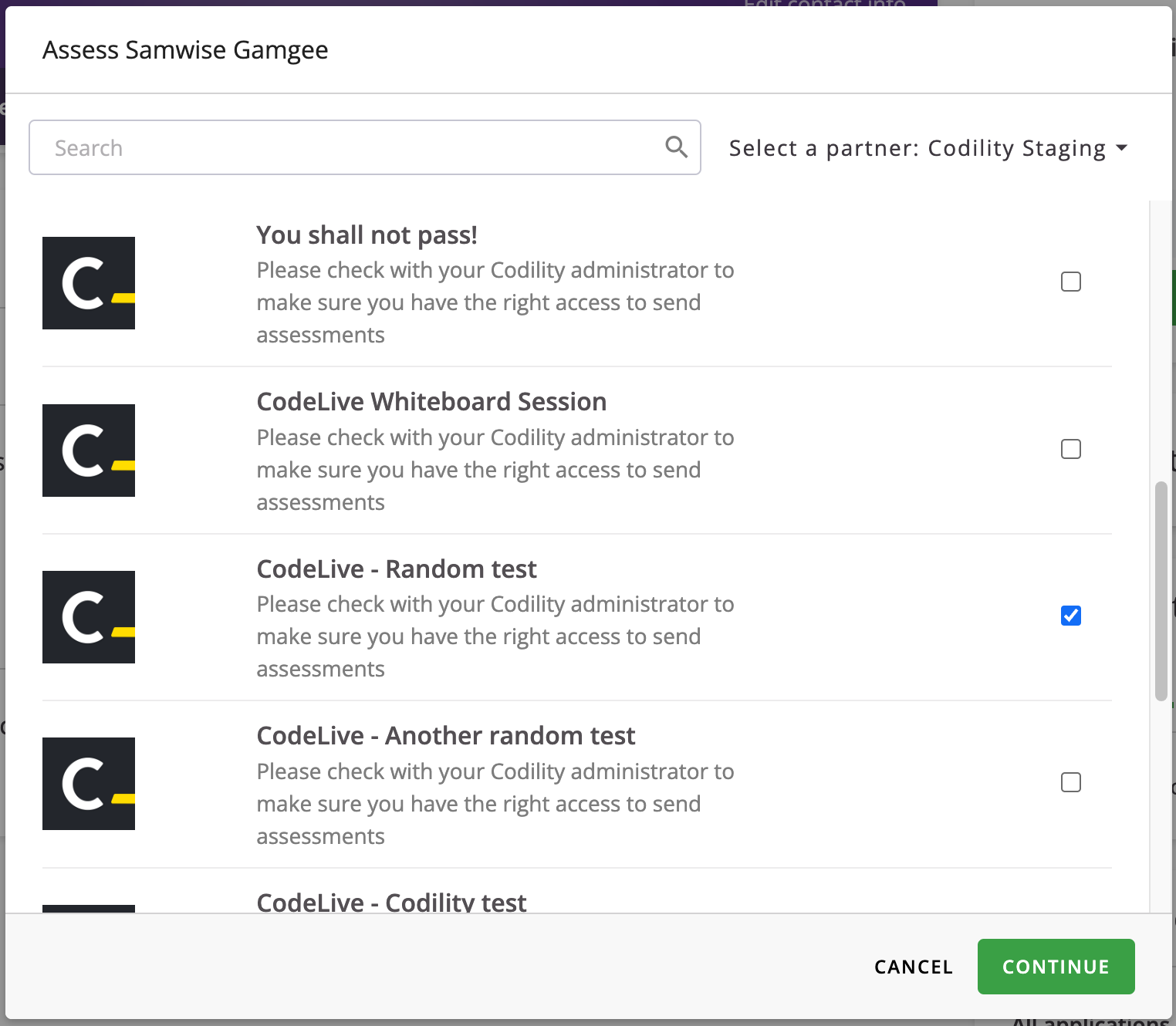 Once you've completed the workflow to create the CodeLive session, refresh SmartRecruiters and you'll find a link to the session that was generated. You can then follow this link and share the URL with the interviewer who will be conducting the interview.
Important Note: Codility does not email the candidate when a CodeLive link is created so you'll want to ensure the link is shared with the candidate when scheduling the interview with them.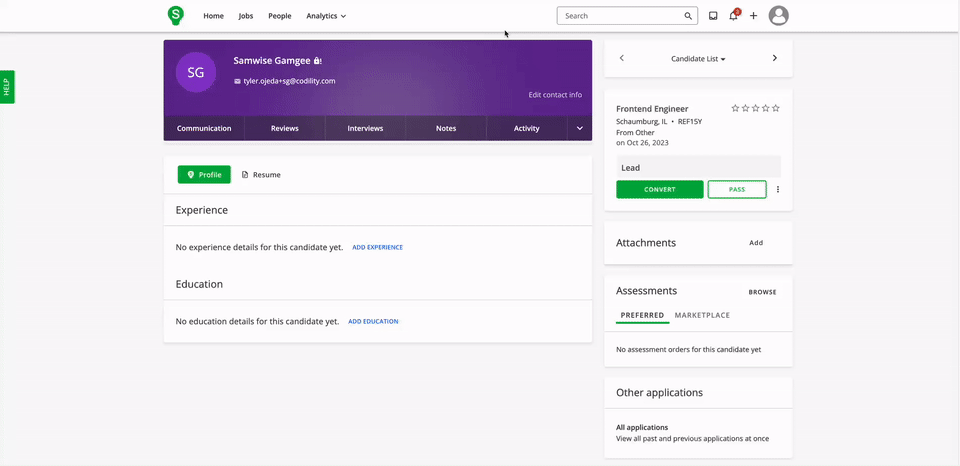 Additional info:
Important Note: In order to send a Codility test in SmartRecruiters or to view the candidate report, the user must have a Codility user seat with the correct permissions assigned. Please work with your Codility administrator if you do not have a user seat and need to be able to send tests or review the candidate reports.
Additionally, there are some SmartRecruiters permissions to keep in mind as well. Admin or Extended system roles will be able to see the results regardless of their role in the Hiring Team. If it comes to Standard and Basic users, they will be able to see the results if their role in the Hiring Team is determined as Hiring Manager, Recruiter, Executive, or if they will have a custom hiring role. If these users have an Interviewer or Coordinator role, they will not be able to see the test results within the SR system.
If you previously used an older version of the Codility-SmartRecruiters integration, you need to make sure that the old integration is no longer connected to your account. Hence, after enabling the integration v2.0, please reach out to Codility Support (support@codility.com) and SmartRecruiters Support (partners@smartrecruiters.com) to disable the old integration.
Have questions? Contact us at support@codility.com and we'll be happy to help.